"There's nothing better than battling your teammate." - David Higgins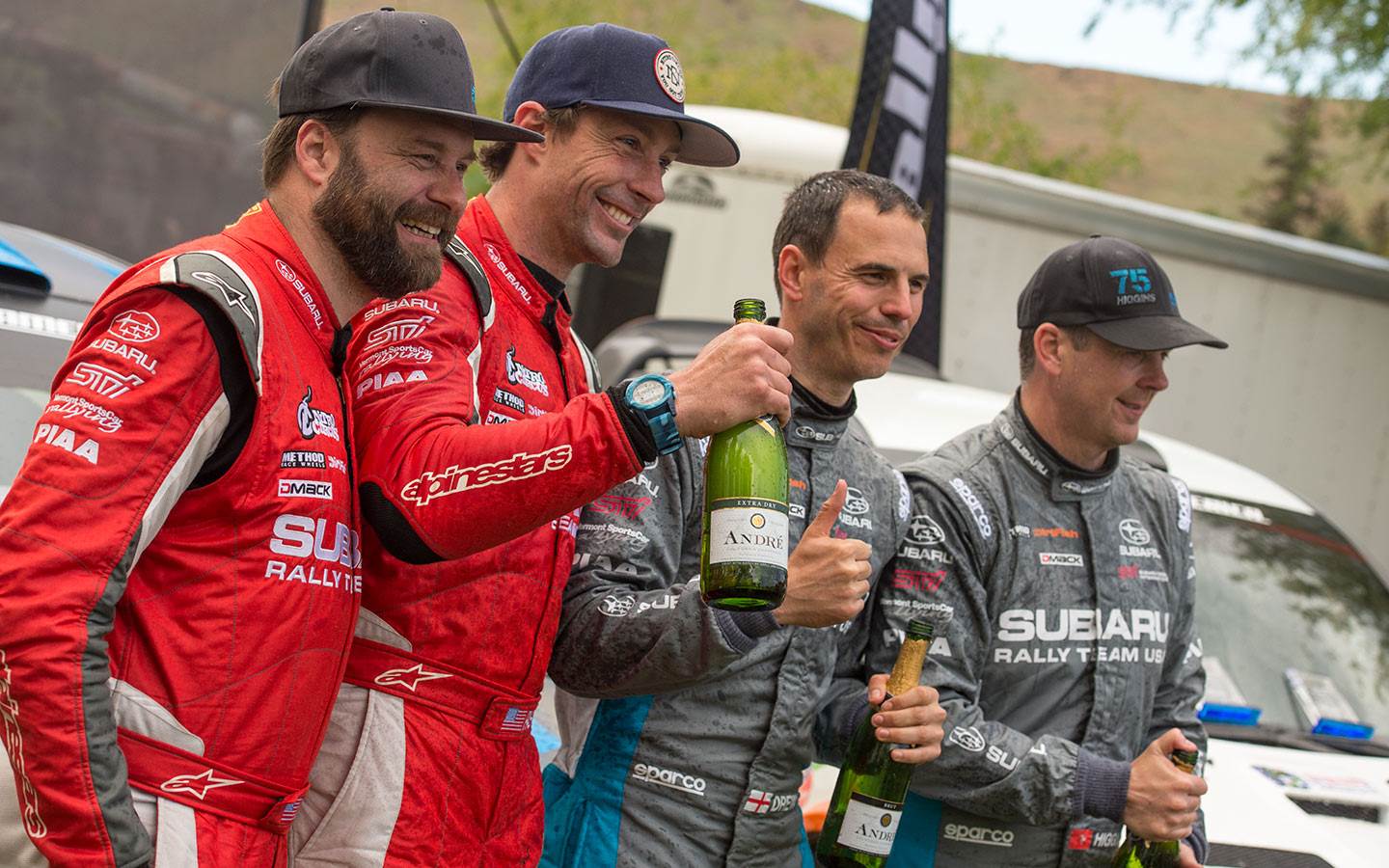 I remember hearing him say that at one of the rallies when Travis Pastrana made his return to Subaru Rally Team USA in 2014... and it couldn't be more true. Need proof? Just look at the results from the Rally in the 100 Acre Wood and Oregon Trail Rally from the 2016 Rally America series! Both rallies have been hard-fought nail-biters with two identical Vermont Sportscar prepared WRX STIs going head to head all the way to the end. David Higgins and Craig Drew made quick work of their Perfect Season last year and have been a force to be reckoned with since this dynamic duo started driving for SRT USA in 2011. Travis Pastrana and Christian Edstrom also have an impressive history with SRT USA but have been out of the fight until recently. The recent battles between them have been close, and are getting even closer in recent events. It's Subaru vs Subaru, teammate vs teammate, and it couldn't be any better!
Last year, Vermont Sportscar proved how epic of a stage monster they have built with their new
VT15r
when Higgins and Drew drove their WRX STI to a perfect season (the first since 1987). While performing a busy schedule with his Nitro Circus series, Travis Pastrana also competed in select events during the 2015 season, but in the previous generation car. He showed great potential, especially considering how little seat time the X Games Legend had accrued through the year. Still, the few races he participated in showed impressive speed and ability with Chrissie Beavis as his Co-Driver.
Subaru Rally Team USA has one hellofuh situation fitting both of these drivers with matching weapons this year, but it's also good to note that Travis' co-driver from his victories in the early 2000s has come back to the team. Christian Edstrom had left rallying after his 2010 season with Travis, but adding that familiar face in the shotgun seat of the #199 car shows that this duo is as sharp as ever. It's as if the two just picked up where they left off!
In the #75 car, David Higgins and Craig Drew have established themselves as a dominant force in US Rallying, winning a seemingly endless stream of championships. Since 2011, when they started driving for SRT USA to replace the seat left by Pastrana and Edstrom, they've won every Rally America National Championship. Even when Ken Block and Antoine L'Estage were fighting for the top, Higgins and Drew proved their consistency and strategy to reign in the championship year after year.
This brings me back to that quote at the beginning. It's always good to have competition to make you better and get you to sharpen what you already thought was a sure thing. I've learned through
my own competition with Rallycross
in my Impreza that I'm always challenged to improve when I share the wheel. If I win, I know I've managed to apply what I've learned and feel a great sense of accomplishment. If I lose, I know that there's room to improve and the desire to keep racing is strengthened. Whether I win or my other driver wins, it's that competition that raises us both to the next level throughout the race. And, while I'm sure Higgins and Pastrana are on a COMPLETELY different level of racing than I am, I know they're both growing and learning and improving because of each other.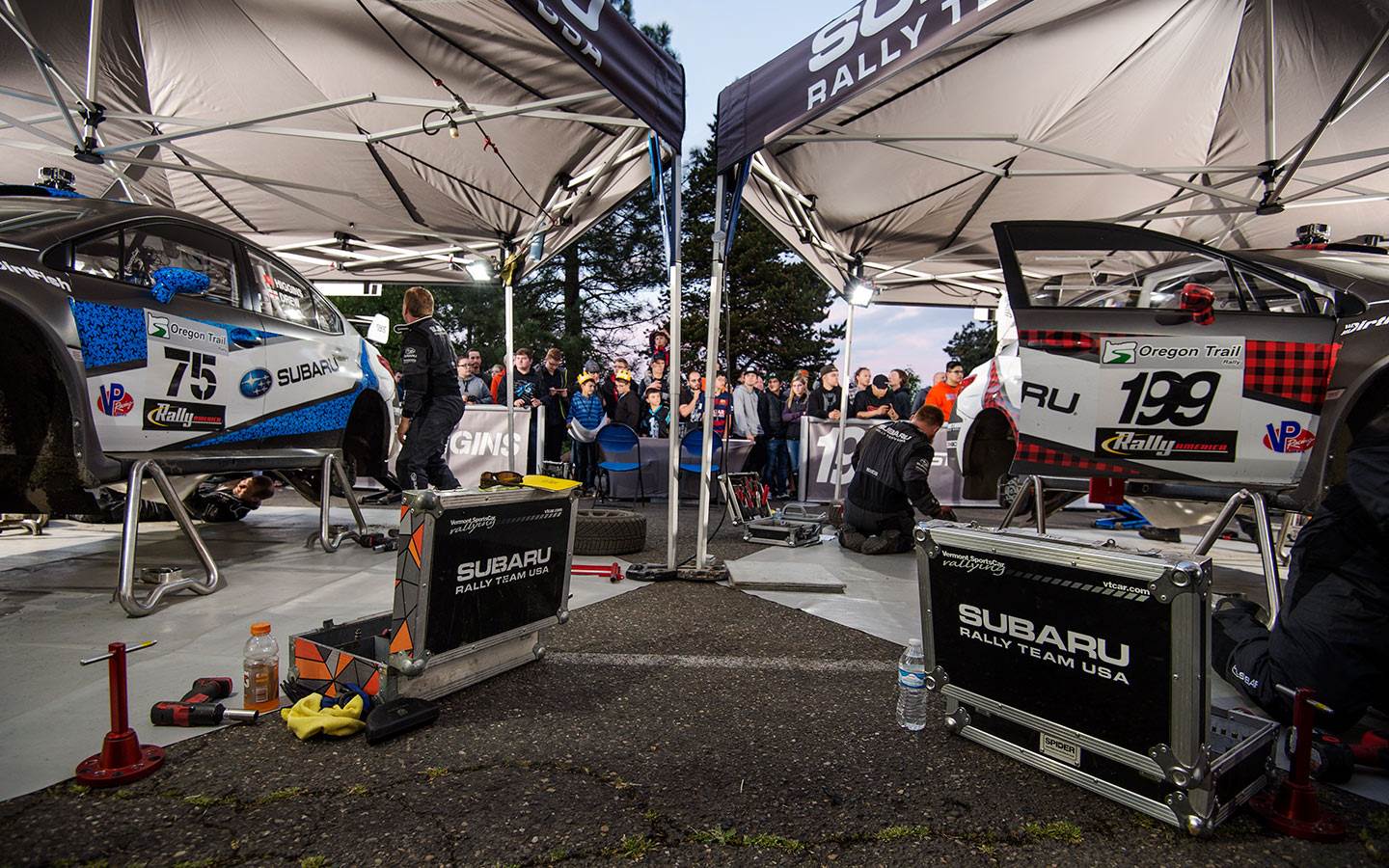 Naturally, combining the rocketships that Vermont Sportscar has built with these competitors who have been so successful before makes for an exciting battle. Mere tenths of seconds have separated their times on the stages, but either way, it's the best kind of battle. Higgins and Pastrana are good teammates and friends. They can only grow and improve more in this competitive environment. Both #75 and #199 are pushing their limits to inch out the top spots, and it only looks to get MORE fun as the 2016 Season continues.