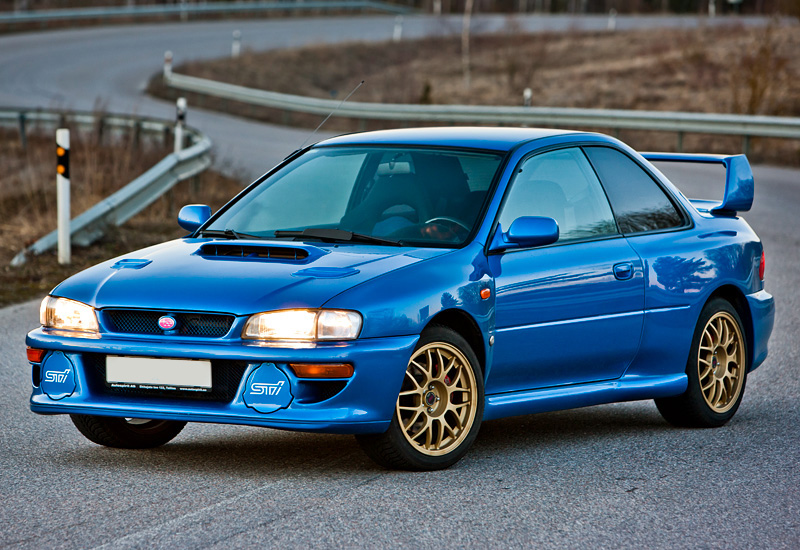 I'll admit, I'm a bit obsessive sometimes when it comes to analyzing designs... like my favorite Subaru of all time: the 22B. Recently, this car was at the FedExField for The Mid-Atlantic All-Subaru Shootout and Showoff, so I immediately donned it as my desktop wallpaper at work for the day. After cleaning the puddle of drool on my keyboard up, I got to thinking about what makes the 22B special. The wide-body fenders, that STI wing, the Cherry Blossom Red logo in the grille, and then I thought "man, those fog light covers are pretty cool." I started to think about their distinctive shape. For a detail nut, things like "
Subaru-Philosophy.com
" are interesting to read up on... and I remembered this quote from their page.
"

...the engineers' passion for monozukuri ("the art of manufacturing") and their idealism do not change so easily. Subaru cars, now and in the past, have been produced from this passion of our engineers. It's the spirit of our predecessors who pioneered the way toward the originality with their passion for better products which makes today's Subaru shine as one-of-a-kind in the industry."
Subaru only built 424 of the iconic 22Bs and it was designed to commemorate Subaru's 40th Anniversary as well as the third consecutive manufacturers' title for Subaru in the FIA World Rally Championship (WRC). As a celebration car... it didn't seem too far fetched to me when I thought "those fog light covers sort of look like the Nakajima logo". For those who don't know, Nakajima Aircraft Company was one of the 5 companies that were integrated into one company: Fuji Heavy Industries. The Subaru logo is symbolic of those 5 companies (the 5 small stars) coming together in "unity", which is what the Pleiades Star Cluster represents. So, to me, it makes perfect sense to see part of their aviation heritage with Nakajima become part of something as simple as a fog light cover on this iconic car. The top, lower left, and lower right protrusions of the cover line up with the aircraft positions in the Nakajima Aircraft logo to form a sort of triangular-looking circle.
It wouldn't surprise me if these were legitimate design choices, though I have yet to find any sort of specific writing or proof about the 22B and any connection it may have to one of the companies that made up FHI. Regardless, there's no denying this is a fantastic machine that has built quite a following over the years. I still see cues in the newer vehicles from the 22B... and for good reason. Ask just about any Subaru Enthusiast what their favorite design is, and nearly everyone will at least include this car among the best (if not their favorite). Every car review, walk-around, and opinion article out there will celebrate this car just as it celebrated Subaru's 40 years of automotive production.