In Fall of 2016, Subaru of America announced a few small changes for the 2017 Subaru Crosstrek. Among the news of Red and Black Special Edition models being released there was an exclusion. The Crosstrek Hybrid and Hybrid Touring models have been discontinued in the US.
Since it's original launch as a 2014 model, the XV Crosstrek Hybrid (later just the Crosstrek Hybrid) was a tough pitch. While you could argue that the quieter smoother ride, nicer interior and exterior touches, and unique additions made it worth the price gap between itself and a normal Crosstrek, there was one Achilles Heel right from the start: Fuel Economy. The driving force for a customer to purchase a Hybrid vehicle is to save on fuel. On paper the Crosstrek Hybrid only delivered marginally better fuel economy figures compared to it's non-hybrid counterpart. Before the customer could even start to appreciate the rest of the Hybrid's trimmings, it'd be easily dismissed from the unimpressive gas mileage figures.
For a full time All Wheel Drive system, the Fuel Economy in Subarus is already pretty impressive. Mix in the fact that most Hybrid-minded consumers are looking for 40+ MPG in a car thanks to front-wheel drive offerings, and the Crosstrek Hybrid already had cards stacked against it. Plus, the technology and extra trimmings that were once exclusive to the Hybrid models eventually made their way onto other non-Hybrid models, which further detracted from any sort of pull it would give customers to give the Hybrid a shot. No matter how capable or how nice this tree-hugging Crosstrek was, the fuel economy figures just weren't enough to make it relevant.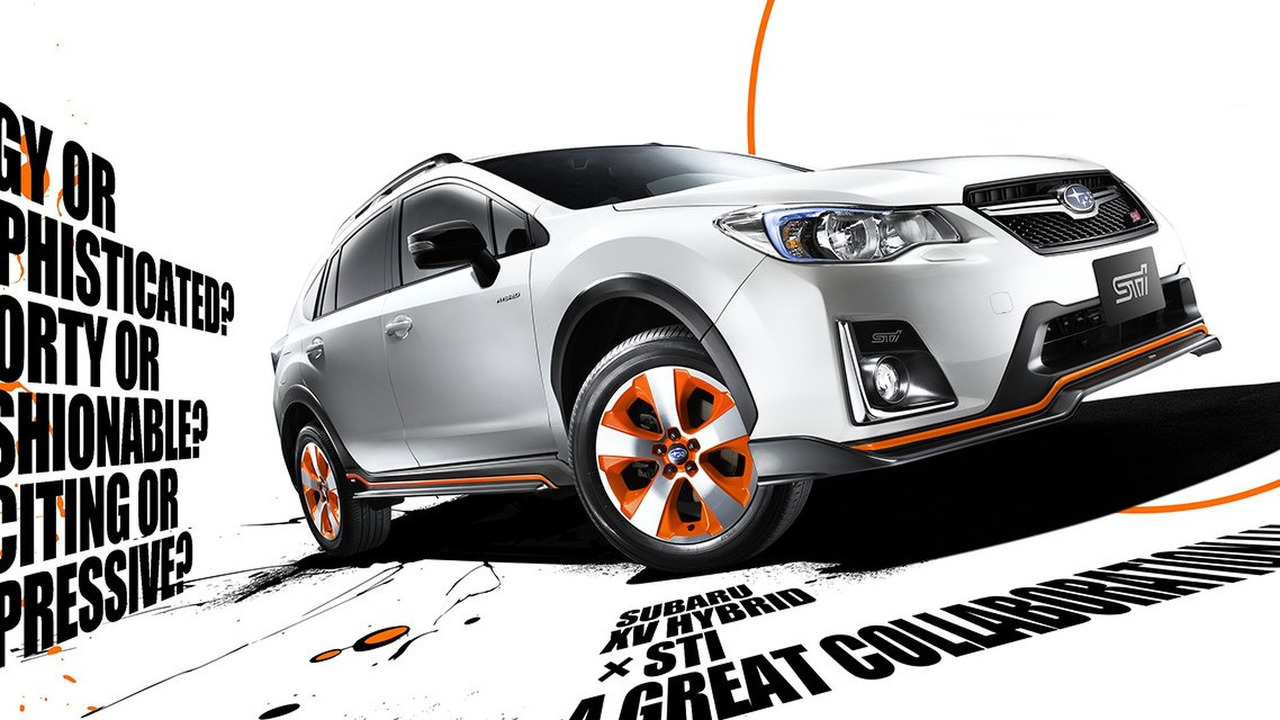 With those dismal figures I imagined that this was it for the Crosstrek Hybrid, but it appears the Japanese have been drinking something different... to the point where the Hybrid is going in the opposite direction.
Behold! The
2017 Subaru XV Hybrid tS
! This STI-packaged Crosstrek tots lots of extra bolt-on goodies as well as a "heart-thumping" orange interior. While no performance upgrades find their way under the hood, this XV Hybrid has upgraded suspension and handling to go along with those flashy exterior aero parts. In the US, it would have had a MSRP around $32,000 (3,326,400 Yen) making it the most expensive XV on the market. Still, it's interesting to see the US market drop the Hybrid while it gets STI treatment overseas.
With Subaru's future plans looking towards Hybrid and Electric designs going into the next generation, the Hybrid's exit from the US market could only be temporary. Still, it's odd to see such a split between success and demise with the same Hybrid system under the hood. As the door closes on the current models, the Global Platform coming for the 2017 Impreza could give this technology new avenues to explore.